For centuries, Muslims across the world have shared common traditions during the holy month of Ramadan stemming from Islamic practices, such as breaking their daylight fast with dates, water or laban, as was the Prophet Muhammad's custom.
However, some local traditions, which are distinct to a particular nation or region, have found their way into the routines, feasts and celebrations that mark the holy month. Saudi Arabia, with its many diverse regions, is no different.
Every year, in the ninth month of the Islamic Hijri calendar, the Kingdom's 13 regions, its hundreds of towns and cities, and more rural reaches will revive their own unique and beloved local habits and practices.
In the big cities, the streets are regularly packed with pedestrians and vehicles as shoppers race to make last-minute purchases, while devout worshippers find space amid the bustle for regular prayer and to read from the holy Qur'an.
Togetherness is an important theme of Ramadan, with families, friends and often whole communities gathering at long tables to share in the iftar feast each day after sunset in homes decorated with twinkling lights and lanterns.
The dishes served at these gatherings, and when important feasts take place, are often distinct to a particular local culinary culture and the availability of p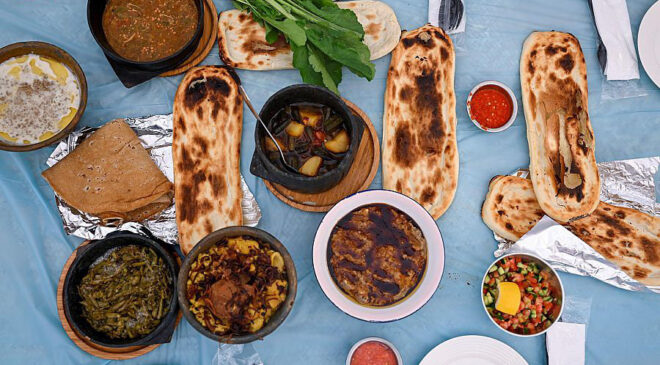 In Saudi Arabia's Eastern Province, many members of the community will meet before Ramadan to share a last meal of familiar dishes that are uncommon during the holy month. The "ghabgah" is usually held on the night preceding Ramadan or a few days before.
During the month, the region's popular dishes include balaleet (sweet vermicelli and eggs), asida (lump of dough made by stirring wheat flour into boiling water, sometimes with added butter or honey), samosas, and sago pudding.
Around the middle of the holy month in the Eastern Province and other parts of the Gulf region, children will dress in traditional clothing and go door-to-door in their neighborhood, singing songs in exchange for nuts and candy, in a tradition known as "gergean" or "knocking."Also common on Saudi dinner tables during Ramadan are dates of all shapes and colors, oats soup, meat and cheese samosas, luqaimat (fried dough), Vimto drink, and kunafa.
These gatherings are about more than just food, however. Games and other family activities are also important traditions. A carrom board, a tradition brought to the Kingdom decades ago from India, is often brought out after the meal and Taraweeh prayers, while others prefer to kick around a soccer ball.
Today, many young men and women like to gather after evening prayers to play baloot, a popular card game in the region, similar to the French Belote.